Learn about our services and check how we can help your company
Get the maximum return on your investments in digital transformation and hyperautomation technologies, with a highly specialized team and services designed to support you on this successful journey.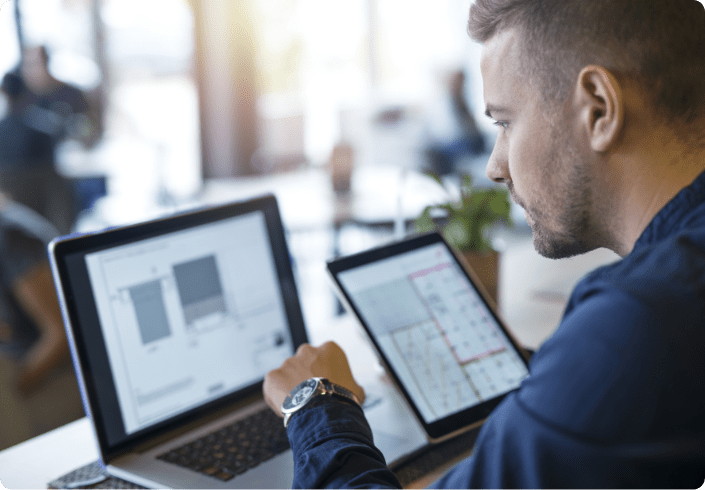 Consulting & Advisoring in Digital Services Experience
Count on Aoop and our Consulting & Advisoring services in Hyperautomation of Services & Digital Experiences to support you in building a journey and roadmap of evolution and leverage your investments, obtaining faster and more tangible returns for your Corporation.

Consultancy & Advisory in Process Hyperautomation
Mapping and understanding business needs and potential Issues to start or expand your hyperautomation initiatives and improve digital experiences in the "Total Experience" context.
We carry out process mapping and review activities, demonstrations, architecture definition, analysis of functional and technical capabilities of the tools, support in defining the platform and implementation project plan (roadmap).

Total Experience / Services Design
Activities of understanding, redesigning and creating digital journeys based on the concept of Multi Experience (MX), encompassing Customer Experience (CX), Employee Experience (EX), Services (SX) and User Experience (UX), enhancing the maximum return on your investments in automation through technology platforms.

Quick advisory service (2 weeks) in your Servicenow environment. Our team of architects and specialists will study your environment, identifying the level of use and best practices in use. Work will be carried out to map opportunities for expansion of the ServiceNow solution, according to the needs and business issues presented, in order to create a blueprint of functional capabilities in use, as well as define a consistent roadmap and priorities for expansion on the platform.

Process Improvement & Performance Office
Using methods and processes of mining and analysis of process execution data, obtained through the Celonis solution, our specialists will help to identify invisible processes and inefficiencies in your organization, enabling the creation of analysis and continuous improvement of processes, enhancing your returns investments in existing technologies and eliminating unnecessary expenses with unnoticed inefficiencies.